Gentoo at FOSDEM 2017
Jan 15, 2017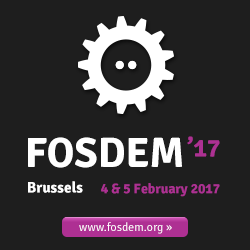 On February, 4th and 5th, Gentoo will be attending FOSDEM 2017 in Brussels, Belgium.
This year one of our own, Jason A Donenfeld (zx2c4), will be speaking on WireGuard: a next generation secure kernel network tunnel.
Similar to last year, the event will be hosted at Université libre de Bruxelles. Gentoo developers will be taking rotating shifts at the Gentoo stand with gadgets, swag, and a new 2017 LiveDVD. You can visit this wiki article to see which developer will be manning the stand when you drop by.
We are looking forward to seeing those in the community who have been hard at work on their quizzes!